Overview
Riverdale is a Residential Project in Kharadi by Duville Estates.
1, 2, & 3 BHK APARTMENTS IN KHARADI, PUNE
It is located along the banks of the picturesque Mula-Mutha River; the perfect sight to wake up to every morning.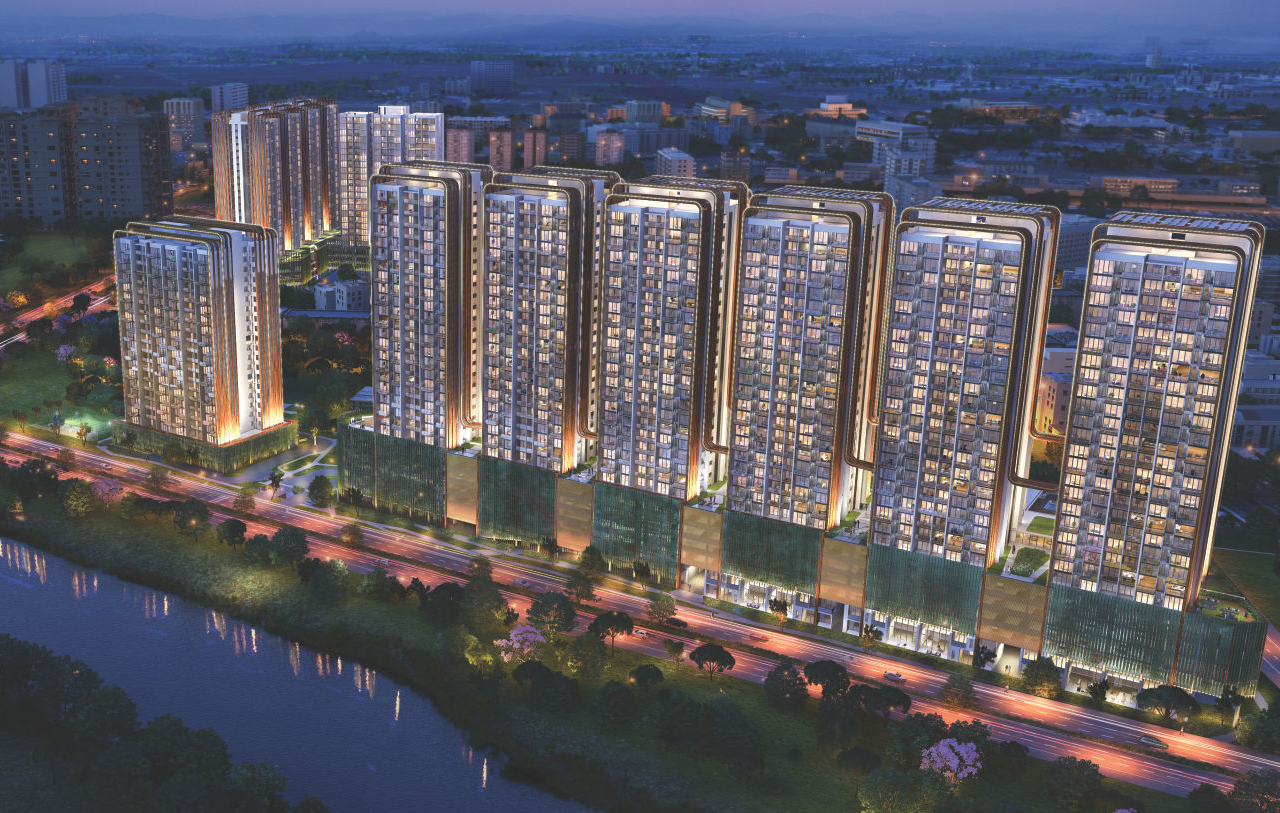 Riverdale Suites - Compact 1 BHK in Kharadi.
Riverdale Heights - 1 & 2 BHK , 2.5 BHK
( Combined 1BHK), 4 BHK ( Combined 2 BHK).
Riverdale Residences - 3 BHK.
RIVERDALE SUITES, COMPACT 1 BHK APARTMENTS
Riverdale Suites, exclusive compact 1 BHK Apartments in Kharadi is now open for Booking !
1 BHK Carpet Area - 304 sq. ft. to 367 sq. ft. - Starting From 33.51 lacs to 39 lacs (All inclusive).
RERA Certificate Number : P52100014163
RIVERDALE HEIGHTS, 1 & 2 BHK Luxury Flats & Apartments In Kharadi
Riverdale Heights 1 & 2 BHK Apartments, now open for booking.
- 1BHK Carpet Area – 482 sq. ft. & 508 sq. ft. - Starting From 58 lacs (All inclusive).
- 2BHK Carpet Area – 722 sq. ft. & 768 sq. ft. - Starting From 85 lacs (All inclusive).
- 2.5BHK (Combined 1BHK) - Carpet Area: 964 & 1016 Sq. Ft.
- 4BHK (Combined 2BHK) - Carpet Area: 1444 & 1536 Sq. Ft
RERA Certificate Number : P52100008035

Amenities
MORE SQ. RECREATION
Riverdale Suites provides a distinctive range of world class leisure amenities and functional facilities in and around the tower that offer you a life of ease and More Sq. Recreation.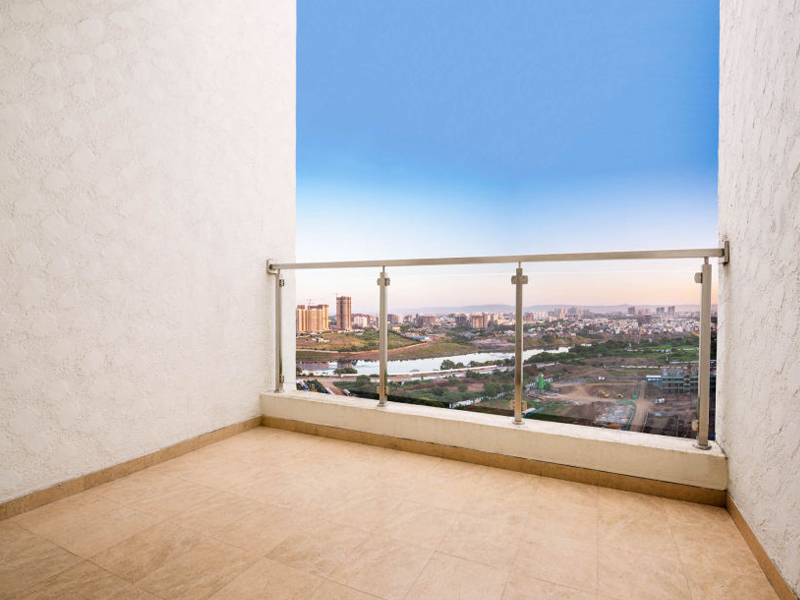 About Duville Estates
OLD VALUES. NEW STRUCTURES.

Duville Estates is a privately held company, owned by Mr. Behram Dubash whose family has been actively running successful businesses across industries since 1810. Its high benchmarks of ethics and value creation for its customers have survived till this day – over two centuries since the family established its shipping business in Mumbai. Duville Estates continues this legacy of ethics, customer-centric practices and an uncompromising approach to quality that is resulting in new and equally enduring structures.


Specifications
MORE SQ. COMFORT
At Riverdale Suites, the intelligent architecture and design lend themselves to the optimised space and well-planned positioning of the apartments. Add to it the range of amenities on offer, and what you get is More Sq. Comfort.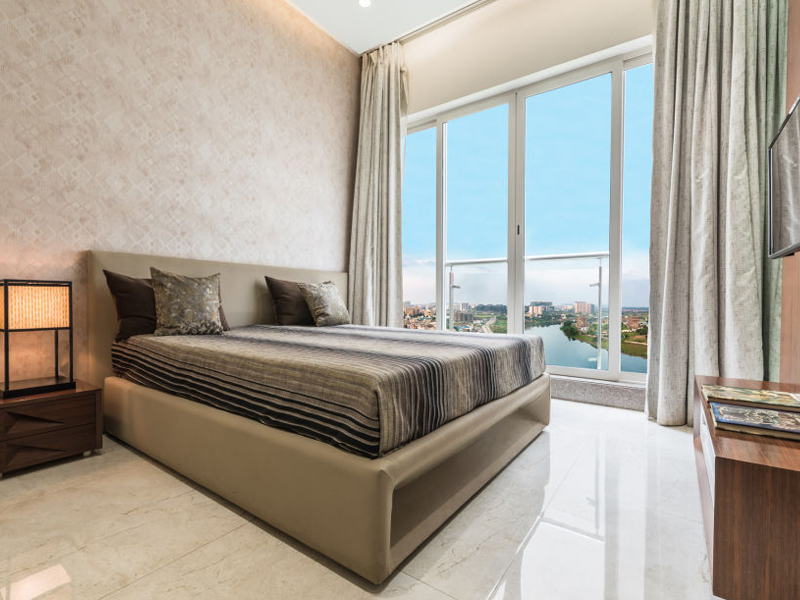 Location & Layout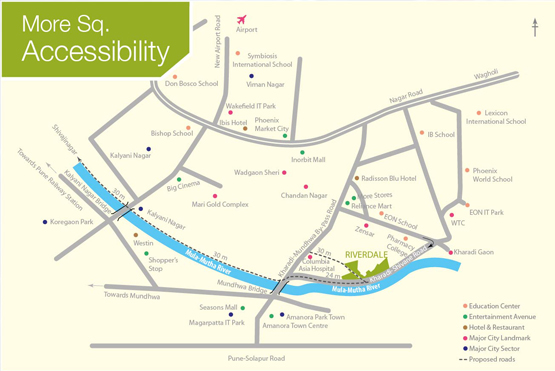 WHERE IS MORE SQ. HAPPINESS?
Spread along the banks of the Mula-Mutha River, Riverdale enjoys the advantage of a scenic view with the benefits of connectivity.
The area features some of Pune's best educational institutes, entertainment & retail zones, and hotels & restaurants, so you don't have to go far for work, education or fun.
The Kharadi-Shivane Riverside Expressway is at your doorstep. It provides easy access to the Magarpatta & Amanora Townships. Close by are the IT & Finance Zones that include the EON IT Park & World Trade Centre in Kharadi.
Pune City is easily accessible via arterial roads from Nagar Road and Mundhwa River Road, and the neighbourhoods of Koregaon Park, Kalyani Nagar & Viman Nagar and the Pune-Solapur highway are nearby too.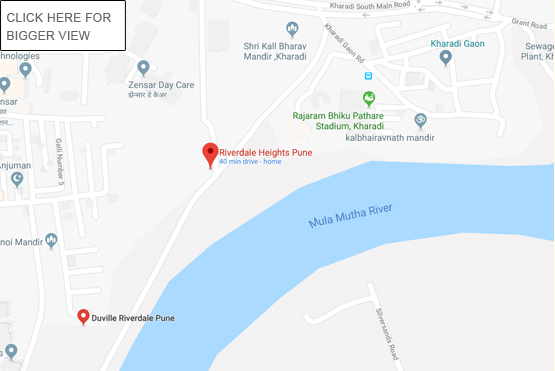 WHAT IS MORE SQ. HAPPINESS?
Pune International Airport - 8.5 km
IT Parks on Nagar Road - 5 km
Reliance Market, More Store, Columbia Asia Hospital - 2 km
Auto Rickshaw and Bust Stands - 800 m
Pune Railway Stations - 10.5 km
Phoenix Market City, Seasons Mall & Amanora Tower Center - 6 km
Phoenix Word School, City International School, Victorious Kids Educares, Sunrise English Medium School - 3 km
Zensar Technologies, Kharadi IT Park, World Trade Centre & EON IT Park - 1.5 km
WHAT IS MORE SQ. HAPPINESS?
A gated community spread across 31 acres, Riverdale is an assortment of towers that comes with a fully equipped clubhouse and other offerings.
It houses apartments of varying configurations, currently ranging from Studio 1BHK Apartments to 4BHK Apartments.
Each of them has been intelligently and aesthetically designed to complement your lifestyle with premium amenities and facilities.
Floor Plans
Floor Plans of Riverdale Suites, Riverdale Heights & Riverdale Residences-I
Gallery
External & Internal views of Riverdale, A premium project in Kharadi
Contact Us
Marketed by : Hegde Realty
Riverdale, Kharadi
A Project by Duville Estates
Riverdale spread over 31 acres, currently ranging of Studio 1 BHK Apartments to 4 BHK Apartments in Kharadi. A premium project in Kharadi by Dunville Estates.
New Kharadi – Shivane Riverside Road, Behind Zensar IT Park, Kharadi,
Pune 411 014.
Your message has been sent. Thank you!